Annual Holiday Party on Dec. 20
Saturday, 06 December 2014 23:02
Alan Hightower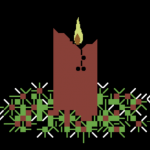 It's that time of year again! Time for the annual AHCS holiday party!
This is one of the most anticipated meetings of the year. The focus is on fun, so feel free to bring any retro games or holiday-related programs to share from yesteryears. There are usually several classic video games available to play and kids always have a great time. Families are always welcome!
The meeting will be on December 20 from 12-5 PM. We generally do a potluck luncheon, so please bring a dish or snack to share if you can.
Christ the Lord Lutheran Church
1001 Duluth Highway (State Route 120)
Lawrenceville GA 30043
Merry Christmas and Happy New Year!!