At our July 21st (2pm) meeting: AHCS GAME DAY!
Monday, 18 June 2012 12:50
Brad Arnold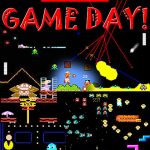 It's our very first Game Day — A hands-on fun fest, where we get to play with all the toys! Bring your favorite vintage computer-based games for everyone to have fun with. Own some aliens! All are welcome — vintage personal computers, hand helds, video consoles, there's even a rumor of a mechanical computer 🙂
The first pgm to name the ten classic games represented in the pic gets extra hp's!
We'll have a couple of video projectors there to accent the fun but it's a good idea to bring your own monitor, too. It's all happening at the Atlanta Historical Computer Society meeting on Saturday, July 21st at 2pm, here:
http://christthelordlutheran.org/directions
(Use the door at the far left of the front of the church.)
Gonna be a blast! Just watch out for flying gibs 🙂